Running Shoes for Underpronation
Underpronators can improve comfort and promote normal pronation of the foot by choosing running shoes for underpronation; however in contrast to overpronators, there is no specific shoe designed solely for the supinator, and instead the best running shoes for underpronation are those which are designed with the neutral runner in mind. Running shoes fall into three main categories; two of which are aimed at overpronators and these need to be avoided. Between 70-80 percent of all runners are overpronators, so most running shoes are designed to cater to this particular gait.
Scroll to the bottom of this page to see our recommended running shoes for supinators, underpronators and people with high arches and/or rigid feet.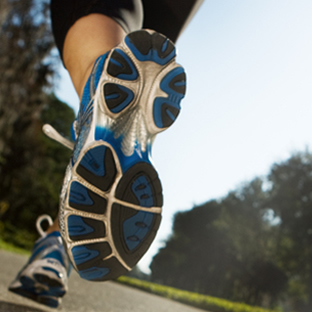 Types of Running Shoes
Motion Control Shoes
Stability Shoes
Neutral or Cushioned Running Shoes
Motion Control Running Shoes
Motion control shoes are designed with an overpronator in mind and are also well suited for heavy runners. They offer the maximum amount of motion control to prevent pronation of the foot. They are heavy and highly durable, and utilize a number of features to control movement of the foot. Motion control shoes are constructed from a straight last and usually feature a medial post to control rearfoot motion. They are best suited for runners with flat feet and moderate to severe overpronators.
Underpronators should not wear motion control shoes as they are likely to limit what little pronation exists and if anything will make an injury even more likely to be sustained.
Stability Shoes
Stability shoes are also designed for overpronators, although they are also well suited to runners with normal foot arches. They offer greater cushioning for comfort, but also tend to feature a medial post to control rear foot motion and to prevent pronation of the foot. Stability shoes are constructed from a semi-curved last, often feature dual density midsoles and are best suited when there are no problems with motion control. They tend to use firmer EVA foam densities on the inside edge to prevent pronation and maximise stability.
Underpronators should not wear stability shoes as they will prevent pronation of the foot.
Neutral or Cushioned Running Shoes
Neutral running shoes are the most lightweight and flexible shoes you can buy although this type of shoe can vary considerably between manufacturers and from model to model. Even a shoe which is fine in one version may not be so good when the yearly update is made. When you find cushioned running shoes which work for you, buy a few pairs while you can, although try them out first before you buy up all the local stocks! Cushioned running shoes tend to be constructed from a curved or semi curved last, which benefits the underpronator more as they promote pronation of the foot. In contrast to stability shoes which tend to feature firmer foam (especially on the inside edge), neutral running shoes have the softest midsoles and are better suited for high arched feet and underpronators. These shoes are more flexible and encourage motion of the feet rather than preventing it, which is exactly what an underpronator needs.
Neutral running shoes are the best choice for underpronators, as they will encourage pronation and will offer much better cushioning.
Features of Underpronation Running Shoes
You should avoid any shoes with a medial post if you are prone to underprontion or have high arches or rigid feet. The medial post is an extra support device which is inserted into the heel of shoes to provide greater rearfoot control to limit motion. It is often simply firmer density foam located on the inside of the arch towards the rear of the shoe.
Flexibility is a very important aspect of running shoes for underpronators, as this will help to maximize inward movement of the feet and will promote natural pronation. Look for for a soft midsole and avoid dual density midsoles as these feature reinforcements on the inside edge to control pronation. You want the shoes with the minimal amount of medial – inside – support. Look for any shoes in the cushioning category and try to find shoes contrasted from a curved last, or semi-curved last as these are the best running shoes for underpornators.
Popular Choices of Running Shoes for Underpronation
With such a wide range of shoes for underpronators on the market, it is not possible to single out the best running shoes for underpronators; however listed below is a brief guide to running shoes which are highly flexible and ideal for underpronators. The shoes have been broken down by manufacturer, with the most popular choices of shoes for underpronators summarized. These are not the only choices by any means, but have been selected based on a general consensus of opinion from running shoe manufacturers, but most importantly, from underpronators who have tried these shoes before.
Brooks Running Shoes for Underpronators
Seattle based Brooks is a leading running shoe manufacturer much loved by road runners the world over. Brooks® DNA technology provides custom cushioning and is one of the best cushioning technologies from any running shoe manufacturer. Omega Flex grooves in the forefoot are a common feature in Brooks shoes, and these maximize flexibility. In the lightweight cushioning category there are two excellent models to choose for the neutral runner or underpronator which are detailed below, also take a look at the Brooks Burn; this gets mostly good reviews from supinators.
Brooks Ghost 7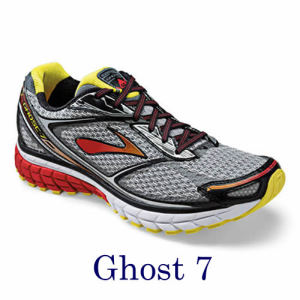 The Brooks Ghost series was voted Editor's Choice in the Runner's World's Fall 2011 Shoe Guide and the same award in 2013 for version 6. Now the 7th generation has been released it would be no surprise if Brooks added to its tally of awards. This latest model boasts a very springy midsole and is an exceptionally well balanced running shoe. It includes Brooks® BioMoGo DNA technology providing custom cushioning; Omega Flex Grooves in the forefoot for improved flexibility, and for all weather running there is a GTX Gore-Tex version.
Its certainly one of the most impressive models from Brooks and it's a great choice for underpronators, and since the Ghost 7 model has had a weight reduction that makes it better still. Add to that the improvements to the foam in the sole and you have a really comfortable, quick and smooth transition from heel to toe and it is hard to find a fault with this latest version; these shoes just keep on getting better and better each year.
If you have tried previous models of the Ghost and you are a fan, the Ghost 7 model is certainly going to keep you happy on long runs. They may not be as accomplished as the older Glycerin models, but excellent none the less and considerably cheaper at around $120 a pair.
View Brooks Ghost on Amazon
Brooks Glycerin 12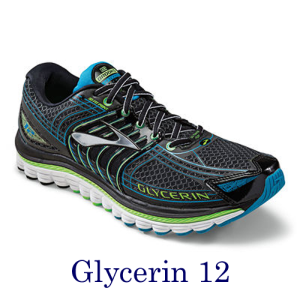 Brooks Glycerin 12's are arguably the best running shoes for underpronators from the entire Brooks range, even beating the impressive Ghost range. They offer an exceptionally smooth heel to toe transition, are rather plush and highly comfortable, with excellent underfoot cushioning making them great for marathons. The latest Glycerin 12 model features Ideal Pressure Zones, which are designed to create a more uniform distribution of pressure underfoot, which makes for much more comfortable runs. As with other versions they improve gait efficiency and have Omega Flex Grooves in the forefoot and as a result are extremely flexible. There are also weight improvements with each new release.
Full length Brooks BioMoGo DNA technology offers excellent cushioning for the long distance runner, and for the environmentally conscious, the BioMoGo midsole is fully biodegradable. Brooks was the first company to put fully biodegradable midsoles in their shoes.
The Glycerin 12 is very soft underfoot making it an ideal shoe for underpronators. The latest version also has a more rounded heel which improves stride efficiency. These shoes are a touch expensive at a shade under $150 a pair, but if you want the best Brooks offers in terms of comfort, they are certainly worth the cost. These are some of the best running shoes for underpronators from any brand and are worthy of inclusion on any serious runner's shortlist when thinking about buying a new pair of running shoes.
View Brooks Glycerin on Amazon
Asics Running Shoes for Underpronators
It's hard to fault the Japanese sneaker manufacturer when it comes to running shoes. Asics are certainly up there with the best and with good reason. Extensive research and development goes into each and every model and they produce some of the most comfortable and technologically advanced footwear for serious runners. Asics running shoes for underpronators are numerous, but the best two models in our opinion are the Cumulus and Nimbus range.
Asics Gel Cumulus 16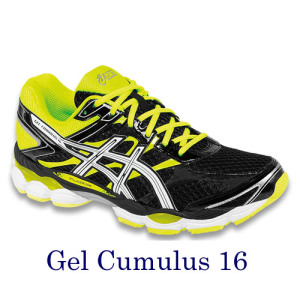 The Asics Gel Cumulus 16 is named after those large fluffy white clouds, and it is a fitting name for such highly cushioned running shoes. They are incredibly soft underfoot thanks to the FluidRide midsole and if that wasn't enough; there are superbly springy gel cushions in the forefoot and heel for added shock absorption. Overall they are very well balanced and highly comfortable for the neutral and high arched runner, and ideal underpronation shoes even for the heavy footed. Even better, they will fit your foot as well as a sock does thanks to independently moving lace eyelets. They really do give a highly personalized and comfortable fit.
For the women, extra gel cushioning has been added to the forefoot for even better comfort; Asics do not just offer scaled down versions of the men's range for female runners. There have also been successive reductions in weight since the shoes were first released (many moons ago), and these shoes just keep getting lighter.
The latest Asics Gel Cumulus 16 sees another significant weight reduction from previous models; in fact, an ounce has been shaved off for this latest release. There are lighter models out there, but they are certainly not a bad choice. If we want to be really picky, one slight negative is they are a little bit stiff in the toe.
They are ideal shoes for middle to long distance running and great running shoes for underpronators and anyone with high arched feet. They come highly recommended and have a great price tag at $115. If you like dazzlingly bright and bold colors, value for money and running shoes than last for longer than most other brands, you will love these day-glo shoes (there are other color choices if not). They do run a little small so choose a half size more than usual if this is your first time with the Cumulus range.
View Asics Gel Cumulus on Amazon
Asics Gel Nimbus 16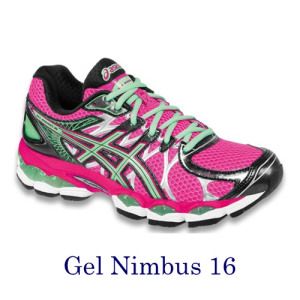 The Asics Gel Nimbus 16 is another excellent cushioned running shoe from Asics, and one which is ideal for underpronators, although for the model to the left, make sure you are wearing sunglasses when you take them out of the box (Not all of the range are quite so boldly colored!). The Asics Gel Nimbus 16 is a significant improvement on the previous models it has to be said. This model has changed significantly over the years, not always for the better mind you, the 12 model was not too good; however, the 16 model sees Asics back to winning ways once again.
The Gel Nimbus 16 is lightweight and quick, and even though year after year Asics improves the cushioning, the 16's really are something else! They have an exceptionally lightweight feel, a lovely smooth transition from heel to toe and the cushioning is out of this world. Seriously!
If you want to run for miles and miles, the Gel Nimbus 16 is so soft underfoot that you cannot hope to get a more cushioned ride and are therefore they are ideal shoes for underpronators and an especially good choice for beginners, heavy heel strikers and for anyone with high arches. The only negative is the price tag; they are priced at $150 a pair, but that's a small price to pay for the cushioning you get.
View Asics Gel Nimbus on Amazon
Nike Running Shoes for Underpronators
Nike is the biggest sneaker manufacturer and the most popular brand across the board if you take all of its sneaker models into account, although hardened runners may prefer one of the more specialist running shoe brands. The latest Nike Free Run's are certainly winning many fans, but may not so good for heavy footed runners; and even less so for severe underpronators. They are maybe a little unorthodox choice and will not be to everyone's taste, so our pick for the best all round Nike running shoes for underpronators are still the Nike Zoom Vomero's.
Nike Zoom Vomero 9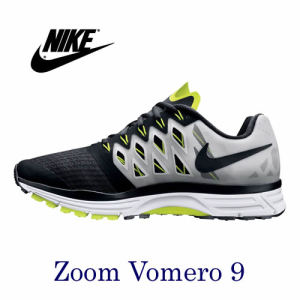 The Nike Zoom Vomero 9 is probably one of the best offerings to date from Nike for the underpronator. They are highly flexible and lightweight, and in contrast to other brands offering highly cushioned running shoes, they don't actually have that much cushioning at all underfoot. However, thin as the cushioning layer is, it has to be said it is pretty efficient at its job. They are also incredibly breathable due to a lightweight sandwich mesh upper, with extra cutouts to get the air flowing. This makes them ideal for hot summer days and the best overall choice for hot climates and people prone to get very sweaty feet.
The cushioning runs the length of the midsole and is very comfortable underfoot and a big plus for women is the gender specific design; this has seen some more tweaks in the latest version to improve the fit and comfort for female runners. The shoes have a dynamic fit, which means they actually changes shape when you run due to a rather innovative fly wire system that adapts to match each individual runner's anatomy and works throughout the stride. These shoes really do fit like a glove.
The low profile cushioning is very responsive at both the heel strike and toe off, which makes them a good choice for medium to long distance runners. An ultra durable carbon-rubber crash pad in the heel means these running shoes will certainly last longer than previous models, and deep flex grooves in the forefoot make the shoes incredibly flexible. Seasoned runners may find the Nike Zoom Vomero 9 a little too soft, but they certainly get top marks for flexibility. If you love Nike styling and want really well cushioned low profile running shoes, these are really hard to beat, and the price tag is reasonable with them costing around $130 a pair.
View Nike Zoom Vomero on Amazon
Nike Free Run 5.0
The Nike Free Run 5.0 is the closest to barefoot running you can get without having to sacrifice cushioning altogether, although barefoot runners will no doubt slate these shoes for even daring to claim they are similar to barefoot running shoes (which have no cushioning at all). They are best called minimalist shoes to keep the barefoot runners reasonably quiet on the matter.
However, if you want cushioning underfoot and a natural feel without going entirely down the barefoot route and fancy something a little different they are certainly worth a try. These models are ultra lightweight and highly comfortable, and have plenty of flexibility thanks to the deep grooves in the forefoot which help to create a highly natural movement throughout the stride.
The shoes have minimal support which actually means a good level of comfort and flex for an underpronator, although the support has been increased considerably since compared to the old 3+ and older 2+ models. They also have a cool fly wire system for a highly comfortable and individual fit. They are pretty attractive too and can double up as everyday trainers thanks to the sleek looks and low weight.
They are better suited to slight underpronators rather than severe underpronators and are not be as durable as other brands and Nike sneakers, although heavy runners are likely to go through these shoes faster. As comfortable as they are, they are not ideally suited for long runs but short to middle distance and they will be fine. Choose a full size bigger than usual as the considerably shorter toe in this release means they do not run to size. (Why do they do that; it is so annoying!)
View Nike Free Run on Amazon
New Balance Running Shoes for Underpronators
New Balance running shoes have many staunch fans who are unwilling to even consider a change of manufacturer; brand loyalty is a strong point with NB and if you like their shoes, why consider anything else? New Balance running shoes certainly win top marks for comfort, and plenty of tech goes into each shoe with the brand heavy on research and development with the technology universally praised. For the underpronator we have picked out one of the stalwarts, which have now got even better with the release of the v4 range. These have to be the best running shoes for underpronators released by the company to date.
New Balance 1080v4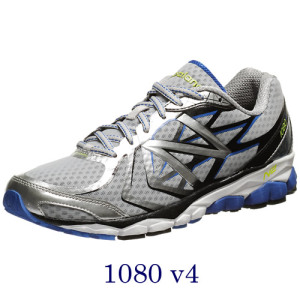 The New Balance 1080 is a plush and very well cushioned running shoe that is lightweight and has a very springy ride, which makes it a great running shoe for underpronators. It's lower to the ground that its predecessors thanks to new and ultra thin cushioning, but don't let that fool you into thinking it will not be soft and squishy underfoot. It has great shock absorption which gets better and better with each release.
The NB 1080v4 is highly flexible with more N-ergy® cushioning gel in the midfoot area than its predecessors, and that spreads out the impact forces more evenly. Previous models have been cramped in the toe so it is good that NB has addressed this problem and added a wider toe box in this model. They are light and responsive though, and the ABZORB® technology ensures a smooth heel to toe transition.
This latest incarnation also includes a hexagonal hole in the heel and deeper groves in the forefoot which improves flexibility. For New Balance fans especially they are some of the best running shoes for underpronators and an excellent choice for heavier runners. The extra cushioning is capable of easing the pressure for larger runners who like to run long distances.
View New Balance 1080 on Amazon